Cow Harbor Day 2016

Watch the parade live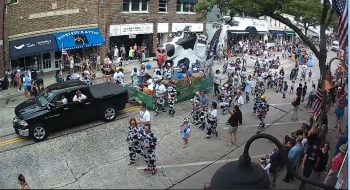 2016 Schedule
 7:-00 AM Vendor -Set up in Village Park
10:00 AM- Vendor Vehicles prohibited from entering park
11:00 AM Parade line-up starts
12:00 (Noon) Parade begins at Wm. Brosnan School, Laurel Ave.
Park Vendors Open, Newton Rides and Midway Open
1:00PM Parade ends, Main Street remains closed to traffic, Music Venues open, Waterfront Activities open
2:00PM Crazy Boat Raced
5:00PM Event ends, Newton Shows, Park Vendors close, clean-up, Main Street clean up
6:00 PM Main Street and parking lots re-open
History, Facts & Photos
What is Cow Harbor Day?
Cow Harbor Day is the traditional annual festival celebrating the history of the Village of Northport on Long Island in NY.  The name comes from "The Great Cow Harbor" this is what the Village was called years ago as the cows use to graze on the fields along the Harbor which are now two lovely parks.
Cow Harbor Day is usually held on the third Sunday September, always following the Great Cow Harbor 10K which is held on the Saturday before.
Cow Harbor Day is traditionally known as the end of Summer in the Village of Northport, and usually draws thousand of visitors to Northport Village.  The day begins with the traditional parade down Main Street at 12:00 noon.  The MC usually rides a horse, followed by the Board of Trustees and Village employees.   The parade features the music of local bands, floats, sport teams, high school marching bands, antique cars, and the Northport Trolley.
Participants in the parade range from young and old, some dressed in costumes, others in everyday cloths as they make their way down Main Street to the Park in the Harbor.
Immediately following the parade, Main Street is closed to traffic until 5:00 pm.  In the Harbor Park, the festivities range from amusement rides, live music, vendors, boating contests and barbecue style food.   On Main Streeet the local vendors offer discounted items, food, bric a brac and everything you can think of in relation to a typical festival.
Vendors looking to participate should contact the Northport Chamber of Commerce for details.  Those visiting for the day should be prepared to walk a good distance if they don't get into the Village by 10:00 am at the very latest to park, be forewarned, parking is a nightmare.  Those with difficulty walking should be extra careful, Northport is full of steep hills.  Remember to park strategically, as leaving can be just as difficult as finding a good parking spot, as most streets can hardly accommodate one way traffic and some visitors will actually will block you in.
Cow Harbor Day Slide Show
Save
Save
Save